Hello children! It´s Christmas once again and it´s the part of the year to celebrate with your family and friends these special days.
We start with a game, it´s a nice way to practice our skills looking for Rudolph...
christmas/games/rudolphhunt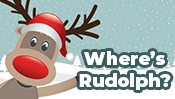 Or this other game...
word-games/balloon-burst/christmas
In the story, you can watch some of the British traditions at Christmas.
short-stories/my-favourite-day-christmas
Now it´s time to listen to music and, in this occasion, we have a song from a famous Irish singer called Enya. The kind of music she plays is named New Age. The song is
White is the winter time.
Can you sing it? Have a try!
And now we get to the end of this post and I wish you have a nice time playing and watching these videos.
I HOPE YOU ENJOYED IT!