Grammar:
COMPARATIVE & SUPERLATIVE ADJECTIVES
Hello and welcome back to my blog!
In this post, we are revising adjectives. Adjectives are words that usually go before a noun and tell us some quality of that noun. For example "My old car has got 4 wheels" the word old is an adjective.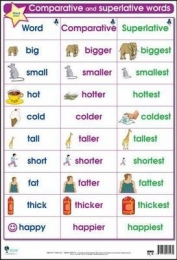 But now, I want you to have look at this video with some good explanations about this topic.
Ok! I hope these explanations are good for you to understand this, but if you have more doubts, don't forget to ask me in class!!
I HOPE YOU ENJOYED IT!!!